When it comes to mobile ad fraud, Singapore has been found to be the hardest hit in the Asia Pacific region, with app install fraud rates hitting 27%. Coming in second is Indonesia (21%), followed by Hong Kong (20%) and then Malaysia (17%), read a recent The State of Mobile Fraud Q1 2018 report by AppsFlyer.
Globally, over Q1 2018, mobile app marketers were exposed to 30% more fraud, compared to 2017, reaching US$700 million to US$800 million worldwide. The share of fraudulent installs has also grown by 15%, tainting 11.5% of all marketing-driven installs in the process. This means out of 1,000 non-organic installs advertisers pay for, 115 are not real.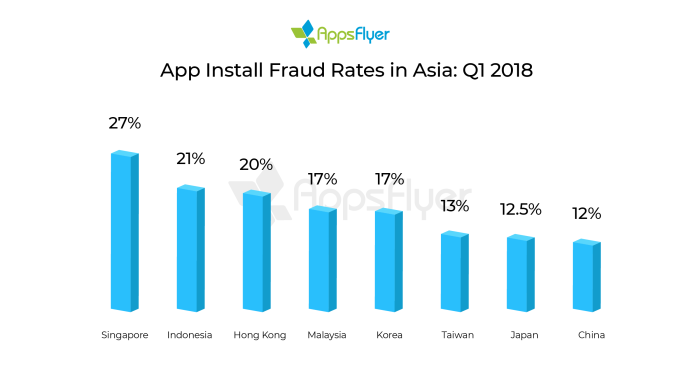 The report explained that when deciding which countries to target, fraudsters primarily looked at two factors – scale and payout. Countries such as Indonesia and India were found to be targets due to their significant volumes. Meanwhile, countries with relatively high consumer price indexes (CPI) such as Japan, Germany, US and UK, are also often targeted by fraudsters. To avoid detection, fraudsters spread out the traffic wherever campaigns are run as they cannot limit themselves to only one country where payout might be higher, the report added.
Shopping, gaming, finance and travel apps hardest hit by fraud
The AppsFlyer study also found shopping, gaming, finance and travel apps to be the hardest hit when it comes to fraud. Shopping apps, in particular, are the heaviest hit vertical due to its large scale with US$275 million in potential losses.
The next mobile app vertical to be affected is gaming, with a financial exposure of US$103 million, followed by financial apps (US$90million), travel (US$65million) and food and drink (US$63 million).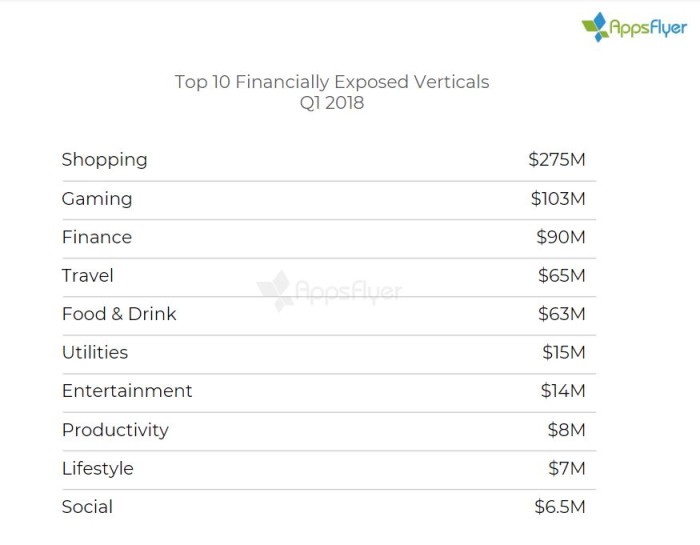 In terms of operating systems, the report found the open Android OS to be more vulnerable to attacks, with the overall amount of fraud being three times to that of iOS due to its scale. That being said, when taking into account fraud rate comparison, the difference is only 33%. iOS systems are also more five times more prone to click flood than Android. In all other fraud types, Android is well ahead, showing a far greater diversity of fraud.
Overall, the report also found bots to be an increasingly dangerous threat, replacing device farms as the most popular form of attack, responsible for over 30% of fraudulent installs. The State of Mobile Fraud Q1 2018 report studied 6,000 mobile applications, 10 billion installs over the period of September 2017 to February 2018.