In response to a growing demand from sophisticated and health-conscious consumers, superfood and organic food are frequently marketed as a key component of overall health and wellness. Marketing spoke to Pret A Manger about how the food chain has responded to healthy eaters' insatiable appetite for the latest food fads in Hong Kong.
Organic products have shifted from being a lifestyle choice for a small number of consumers to being consumed at least occasionally by a majority of Hong Kong people. Besides organic, other trending diets you may have heard about include vegan, grain-free, gluten-free, raw, juice cleanses … and the list goes on.
As consumption and availability of those emerging foods have both become mainstream, the food industry has recently undergone a transformation.
Last month, British sandwich and salad chain Pret A Manger jumped on this trend, and launched its new "Not just for veggies" menu and campaign in Hong Kong as the chain saw an increasing demand for greener and lighter eating.
With the new menu offering a wider choice of vegetarian options – up to 100 veggie recipes – the restaurant doesn't only aim to become a vegetarian and vegan dining destination, but also wants to cater to meat eaters who just want to eat a little less meat.
"After the successful launch of Pret's veggie pop-up in London last year, which has since become permanent, we wanted to bring some delicious new vegetarian innovation to our customers in Hong Kong too," says Yumi Li, commercial director (Asia) at Pret A Manger.
The restaurant chain has also turned its Causeway branch into an "ambassador shop" to showcase all of the 100 veggie recipes. Additionally, it turned its signature wine-coloured star green to align with the campaign.
With superfoods such as chia seed, coconut yoghurt, avocado, beetroot and quinoa included on the menu, Li proudly says Pret is the first ready-to-eat food chain to offer this kind of trendy food.
To create top-of-mind awareness, the restaurant decided to take a different approach from its long-standing word of mouth marketing strategy and roll out a large-scale advertising campaign for the first time.
This included outdoor ads on trams and teaming up with celebrities and influencers on social media to promote the veggie menu.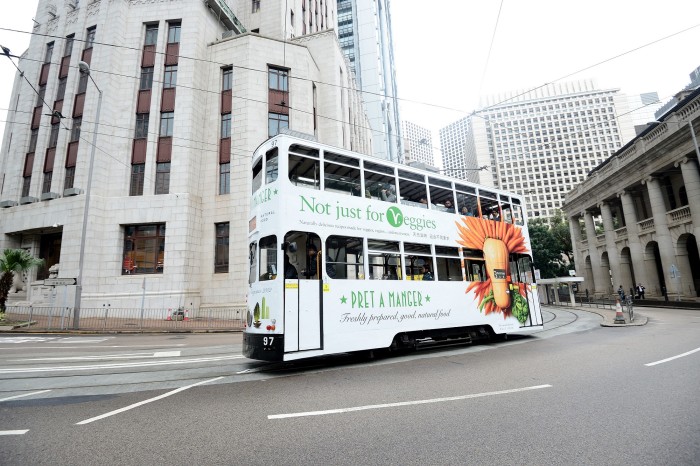 Doing out-of-home advertising or social media posts might be staples for many brands, especially for the F&B industry, but for a company which spends less than six digits on marketing a year, it was a bold move for Pret.
"We always believe we should invest in food development to offer high-quality products and spend money on staff so as to create a better in-store experience for diners," Li said.
But now in its 15th year in Hong Kong, the restaurant believes it can do something more to win customers' hearts, especially in the digital era.
That's why the restaurant partnered with famous TV hostess and frequent patron Do Do Cheng to share her food pictures on Instagram for the very first time.
It also appointed a new PR agency earlier this year to handle its media relations.
"We do more media tasting and promotion events to show that we are in tune with customers."
With 20 stores in Hong Kong, mostly located in commercial districts in the heart of the city, Li says the chain is looking to expand to different areas – it is currently targeting three to four shop openings per year.
While the competition in the organic food retail market is heating up, it doesn't worry her much.
Rather, she thinks natural and organic diets will continue to grow.
The pie is now bigger … our counterparts have educated customers on the organic sector and this will support its continued development.
Another reason why Li is so confident about the brand is that about 30% of its food ingredients are exclusively imported from the UK headquarters, such as croissants, bread, salmon, bacon and so forth, which cannot be imitated by its rivals.
Putting so much focus on its product quality, Li says its food costs are the single biggest expenditure of the restaurant, more than the notoriously high rents in the city.
She also believes the upside of its Hong Kong market is the hands-on and flexible operations. For instance, for the "Not just for veggies" campaign, the team started to plan for the Hong Kong launch last September, and in less than six months, it was actualised and kicked off in February.
While its UK head office has laid the groundwork for its development and sent many high-quality ingredients to the Hong Kong office, Li says Hong Kong has also "exported" some marketing tools overseas at the same time – such as the red packets.
She says many Chinese tourists will go to a Pret store inside an outlet village in Oxford, and over time it has become a must-go place for tourists so the restaurant gives away red packets to those customers during the Chinese New Year.
As the rest of its UK stores don't follow this traditional custom, the Hong Kong office will send a considerable amount of red envelopes to the branch.
Li says she has Pret in her blood after she first started working at the company in 2002 as a front-line team member in London for about one and a half years. She then worked in the commercial team at headquarters and worked her way up to become the range and merchandising manager before being transferred to the Hong Kong office after the financial crisis in 2009.
Now working as commercial director, she spearheads the food, marketing and supply chains, and is responsible for new shop types for the business targeted specifically for the local market.
Its first Chinese store was opened in Shanghai in 2014. Three years in, she says the development of the Chinese market is still at the "early stage" and "challenging", but the restaurant will stick to its 80/20 rule – 80% of its food consists of the classic beloved products from the UK, while 20% are tailor-made local innovations.
Looking to the future, with more than 400 stores located in the UK, US, Hong Kong, Paris and Shanghai, the British food chain will continue expanding cautiously, with the first restaurant set to open in Singapore in the third quarter of 2017.