In the 2,519 square foot presidential room in Conrad Hong Kong, Stuart Foster lounges comfortably in a plush sofa and sips a cappuccino as if he's at home.
A frequent traveller who has held a number of international roles, Foster was no stranger to the world of hotels before he officially entered the hospitality industry.
During his 15-year tenure at Moët Hennessy, he has lived his life in transit, moving from Tokyo to Paris, New York to Florida, and now currently residing in Virginia.
Perhaps it's this unstable life that made him turn to the Hilton Group in 2012, joining as marketing VP for luxury brands and taking charge of the development of distribution, sales and profit, account planning and pricing for Conrad Hotels & Resorts and Waldorf Astoria across the region.
Making a big career change may not be easy for many, but Foster took to the job like a duck to water.
"Selling champagne and selling hotels are actually very similar; at the end of the day, it's about marketing experience," says the hotelier.
"People buy a bottle of champagne not for the juice, the bottle or the cord. They buy it for the event that happens when that cord comes out. It's a party in the bottle essentially.
"Just like in the hospitality field, people stay in a hotel room because they want to experience the destinations. In both cases I create a marketing positioning for brands that are around the experience."
But gone are the days when the customer experience means leaving little notes next to water bottles or polishing guests' shoes as a surprise. Today's customers expect a more holistic and coherent experience across offline and online, starting even before they set foot in the hotel.
It's a global phenomenon that travellers are moving from buying things to buying experiences.
"Traditionally hotel brands talked to demographic, gender and nationality. But today you travel around the world, you find a 45-year-old wealthy man and a 25-year-old dot-com entrepreneur from California, and there's a lot more they have in common when it comes to things such as exploring, travelling and journeying around the world."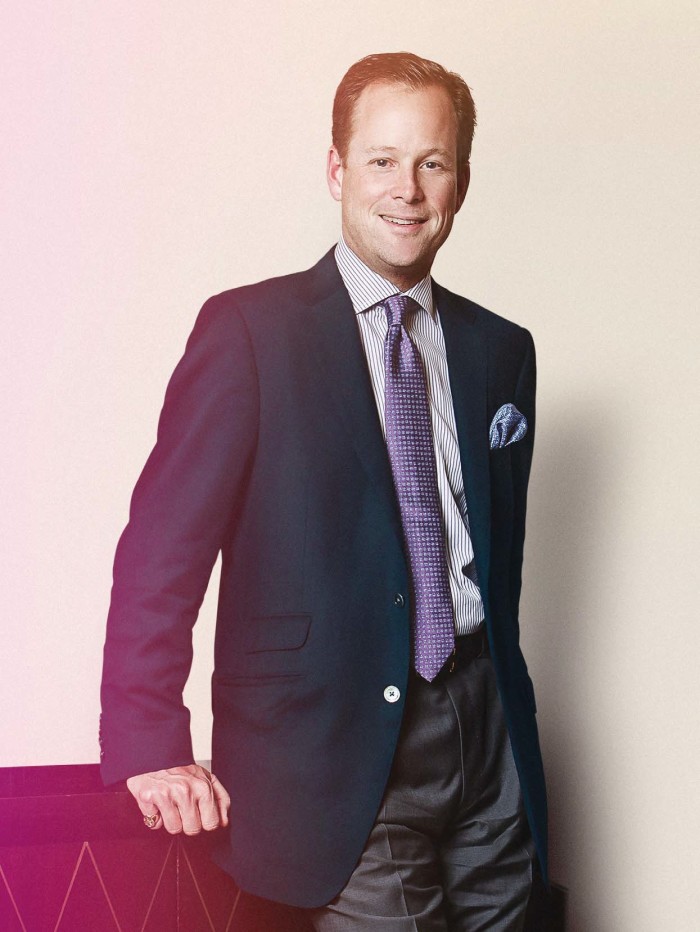 In the past 10 years there has been a change in modern travellers, who are now less interested in the formality of luxury such as white gloves, platters and butlers wearing bow ties.
"Now they like to explore, and they like to go off on their own."
This is why Conrad's permanent brand-wide platform "Stay Inspired" was born – aimed to reimagine the consumer experience with a series of curated travel itineraries that are open to the public.
Dubbed Conrad 1/3/5, the itineraries are rooted in a dedicated website and its concierge mobile app, where users can get a handful of tours divided into one, three and five hours, with places off the beaten track across 24 destinations that Conrad serves.
"Travellers today mix work and pleasure seamlessly in their life; so when they travel, the hotel is much more a part of their journey. 'Stay Inspired' is about the part of that journey of the modern travellers, giving them itineraries, ways to discover culture, food and art to help them understand the destination.
"The platform is a change in the way we talk to our consumers – it's about mindset."
Spearheaded by former Condé Nast Traveller editor-in-chief Nilou Motamed, everything in the itineraries is inspired by the destinations, sidestepping tourist attractions that often appear in travel guides.
"It's not about the latest, trendiest restaurants, there's enough online information for that; it's about giving customers a completely unique experience in a destination. We want to create itineraries for which our guests will recommend to their friends.
"The hotel space is very crowded with a lot of brands, and more brands to come. People need a reason to pick you, and it cannot be on a product level."
And that's just half the story. The other half is how to keep Conrad's employees inspired.
"We don't just talk about service, service is a function. How service is delivered is culture. It's about how our staff feel towards their jobs.
We teach them how to be curators of experiences, or storytellers of destinations, rather than just executing their jobs.
Then again, quality service is not enough to impress today's digital-savvy consumers, as luxury travellers are becoming more active in seeking information online and embracing adventures.
The success of home-sharing concepts such as the Airbnb model is posing threats on super deluxe hotels while it makes consumers even more selective on accommodation choices.
To get an edge in the competition, high-end hotel groups from the likes of Hilton, Marriott and Mandarin Oriental are ramping up investment in digital competence, particularly on mobile devices, to stay in tune with increasingly mobile guests.
In 2013, Marriott introduced a mobile app that carries a check-in feature; Mandarin Oriental's MO Hotels app allows guests to manage their reservations, and to browse property details via an interactive 3D view; and Ritz-Carlton's mobile app enables users to unlock special digital experiences in the hotel using a built-in QR code reader.
Hilton is arguably a pioneer of the digital revolution. Debuting in 2012, Conrad's ever-improving concierge app is also a full-service concierge centre. From ordering room service to hotel treatments, the app is designed to make "everything that you'd normally do by the telephone go down in the palm of your hand".
Two years later the group expanded its mobile offering with a digital check-in feature and room selection from digital floor plans across 11 of its brands, including Conrad.
Hot on the heels of Starwood's Bluetooth-enabled hotel key feature that was unveiled last year, Conrad is catching the digital transformation train with an even more ambitious plan to replace all room keys with smartphone keys by mid 2016.
The concept of the digital key has been fully implemented in Conrad properties in the US, and is being applied accordingly to different markets.
Without giving too much away, Foster says the next big project will enable guests to control door locks using IOS or Android devices.
Besides the matter of convenience, investing in mobile technology can also optimise data quality to boost content effectiveness.
"Through big data, we get to know which part of the app they use and the time they use it. That allows us to increase attention to that content, and also adjust content that isn't being viewed very much," he says, adding that Conrad's marketing mix is going full-digital in the future.
With the help of digitalisation, the group has doubled the size of its footprint with an 85% increase in the past five years, while an additional 61 hotels opened around the world during this quarter alone, following three new Hilton brands launched worldwide last year.
All this is to feed the brand's ambition to become what Foster assertively says, the "fastest growing and most innovative luxury hotel".
To date, Conrad Hotels & Resorts spans the globe with 24 properties in the Americas, Asia Pacific, Europe, the Middle East and Africa. Around 18 properties are in the pipeline globally for the next five years; 13 of which will be in Asia, including one in Guangzhou and one in Xiamen.
This level of ambition for growth and the eagerness to be innovative could be a propulsive force for the business, but it could also be an alluring pitfall when marketers get too obsessed with being unconventional in an initiative, and they drift off course.
Even with today's technology, the tie between innovation and sales remains elusive.
"Marketing is fun and brand positioning is interesting, but at the end of the day we have a business to run.
"It's very important to strike a balance between what we want to do from a marketing standpoint – talking to consumers and telling them stories – and getting people in and paying for rooms."